Masterclass French cuisine
Tuesday, June 23, 2020 at 19 h
This cooking class is expected to be available for booking on Wednesday 01 July, 2020.
Cooking class in English
Masterclass French cuisine
recepies and techniques taught by a professonal chef
with Anthony Joynes
French cuisine is known to be one of the finest arts of cooking but also often associated with a lenghty and difficult way of preparation. Anyone can make a vinaigrette, with mayonnaise it gets trickier, and how to prepare things as jus, soufflé, blanquette, confit de canard, tarte tatin, and sabayone remains a puzzle to most of us. In this cooking class some of the secrets of french cuisine are revealed, and you get to know techniques that will not only refine your level of cooking but also impress everybody you are cooking for
Menu:
Vichyssoise (Amouse)
croquettes, mayonnaise
double baked Soufflé au fromage, endive & walnut
Blanquette d´agneau, minted potatoes, rocket salad
Tarte-tatin, vanilla ice cream
Anthony Joynes
Anthony Joynes is in the cooking industry since 20 years, he´s trained in traditional french cuisine as well as fine italian food and has a personal love for spicy asian food. His career started in New Zealand where he was born, and took him to some of the best restaurants in Australia before working in Michelin-starred restaurants in London and finally Berlin. Since three years he has settled down in Charlottenburg, running the restaurant "Joynes Kitchen" together with his wife. Based on his traditional training, he loves to work with seasonal ingredients, using all parts of the animal, and working as resourceful as possible while creating flavourful and surprising dishes.
Photo: Marco Hartz
Location: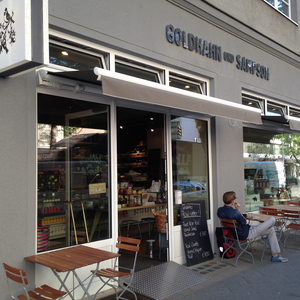 G und S Charlottenburg
Wilmersdorfer Str. 102/103
10629 Berlin
Date:
Tuesday 23 June, 2020 at 19:00 h
Duration:
Generally 3.5 to 4 hours (no guarantee).
Participants:
max. 16 persons
Menu:
Vichyssoise (Amouse)
croquettes, mayonnaise
double baked Soufflé au fromage, endive & walnut
Blanquette d´agneau, minted potatoes, rocket salad
Tarte-tatin, vanilla ice cream