Making Ginger Bread Houses
Sunday, 24 November 2019 at 14 h
Baking class in German
Making Ginger Bread Houses
Für kleine und große Hexenlehrlinge sowie angehende Baumeister
with Petra Rimkus
Backkurs für Kinder ab 8 Jahren in Begleitung von Erwachsenen.
Passend zum Advent eröffnen wir unsere Knusperhäuschen-Manufaktur. Wir machen einen klassischen Lebkuchenteig und entwerfen einen Bauplan für das perfekte Häuschen. Dekoriert wird mit allen Klassikern, die der Weihnachtsmarkt zu bieten hat, aber auch mit kandierten Orangen, Zitronen und Baiser. Jeder baut ein Lebkuchenhäuschen und kann dies am Ende auch stolz mit nach Hause nehmen: also unbedingt einen Schuhkarton mitbringen

Wichtige Hinweise zur Buchung: Jeder Teilnehmer benötigt ein gültiges Ticket, auch die Kinder.
Wir empfehlen Teams aus einem Kind und einem Erwachsenen für erfolgreiche Bau-Erlebnisse. Ohne Erwachsenen können Kinder erst ab 16 Jahren teilnehmen.
Petra Rimkus
Petra Rimkus, Jahrgang 75, wurde in der Lüneburger Heide geboren und klaute schon als Kind ihrer Oma die Töpfe und Löffel aus der Küche, um im Garten zu kochen. Damit war ihr Schicksal besiegelt und ihr beruflicher Werdegang vorgezeichnet. Seit 2002 tobt sich Petra in Berlins Küchen aus und hat 2012 ihren eigenen Cateringservice deli.cat gegründet.
Photo: Shay Dashevsky
Class type:
Cooking in teams of two — In this class you will cook together with a partner (or sometimes 2 partners) at one station. You will be preparing every dish of the menu yourself. Most of the ingredients, already correctly measured, will be waiting for you at your station, so you can start cooking more quickly. Crucial techniques and/or the use of special equipment will be demonstrated by the teacher before you'll have a go yourself. This class is perfect for everyone who likes to have a real hands-on experience.
Location: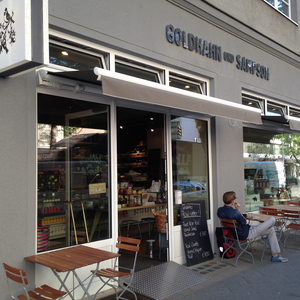 G und S Charlottenburg
Wilmersdorfer Str. 102/103
10629 Berlin
Date:
Sunday 24 November, 2019 at 14:00 h
Duration:
Generally 3.5 to 4 hours (no guarantee).
Participants:
max. 16 persons