Let's talks about wine and cheese, baby!
Monday, 29 April 2019 at 19 h
Seminar and tasting in German
Let's talks about wine and cheese, baby!
Sensory workshop: wine, cheese and why together?
with Anika Mester und Florian Minzlaff
Wein und Käse sind wie ein altes Ehepaar. Manchmal blühen sie auf. Oft kriegen sie sich in die Haare. Wir entdecken gemeinsam welche Beziehungen funktionieren und welche nicht. Mit vier Käsen und vier Weinen gehen wir dieser klassischen Kombination spielerisch auf den Grund. Dazu gibt es Geschichten rund um beide Produkte von Anika und Florian. Es werden verschiedene Käse und Brot gereicht, wir empfehlen aber, vorher eine Kleinigkeit zu Abend zu essen.
Menu:
einen Ziegenfrischkäse
einen Weichkäse
einen Hartkäse
einen Blauschimmelkäse
Anika Mester und Florian Minzlaff
Anika ist freiberufliche Fotografin, Köchin und eine vehemente Verfechterin von Rohmilchkäse. Ihr erstes Wirtschaftsstudium hat sie schnell für eine Ausbildung zur Köchin sausen gelassen. Nach einer Weiterbildung zur ganzheitlichen Ernährungsberaterin folgte sie dem Ruf nach Italien an die Universität der Gastronomischen Wissenschaften. Hier hat sie sich in das Thema Käse verliebt. Nachdem sie als Einkäuferin für Käse in der Weltgeschichte unterwegs war verschrieb sie sich Ihrer zweiten Leidenschaft, dem Fotografieren. Heute hält sie mit ihrer Kamera die Menschen hinter dem, was wir essen fest. Besonders gerne ist sie hierfür auf Schweizer Almen unterwegs, so kombiniert sie das beste aus zwei Welten. anikamester.com Florian ist in Berlin geboren und aufgewachsen. Als Sohn von zwei Köchen gab es bei dem Thema Essen und Trinken kein Entrinnen. So fand er sich mit Anfang Zwanzig zum Studium der Gastronomischen Wissenschaften in Italien wieder. Dort hat er sich dem Berufsfeld Wein dann vollends verschrieben. Seitdem reist er um die Welt, um sich als Sommelier, Weinbauer und Geschichtenerzähler die Zeit zu vertreiben. Heute darf er das auch bei Goldhahn und Sampson tun. Die beiden waren Kommilitonen beim Studium in Italien, und ergänzen sich ganz wunderbar mit ihren Spezialgebieten.
Photo: Henrick Haase/Nina Dörner
Class type:
Seminar and tasting
Location: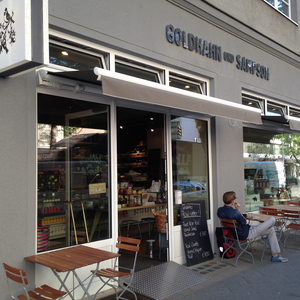 G und S Charlottenburg
Wilmersdorfer Str. 102/103
10629 Berlin
Date:
Monday 29 April, 2019 at 19:00 h
Duration:
Generally 3.5 to 4 hours (no guarantee).
Participants:
max. 16 persons
Menu:
einen Ziegenfrischkäse
einen Weichkäse
einen Hartkäse
einen Blauschimmelkäse