Lebanese Cuisine
Wednesday, 4 September 2019 at 19 h
Cooking class in German
Lebanese Cuisine
Die Erweiterung des kulinarisch-arabischen Horizonts
with Lisa Shoemaker
Zur Einstimmung Fatteh – libanesiches Frühstück mit knusprigen Brotscheiben, Kichererbsen, Labneh (eine bisher bei uns nicht sonderlich bekannte Variante von Joghurt, da sie aber sehr köstlich ist, wird sie bestimmt bald in aller Munde sein) und mehr (das Wort Fatteh ist übrigens mit dem griechischen Wort Feta und dem italiensichen fette verwandt, in allen Sprachen bezeichnet es Scheiben).
Danach Mezze mit Gemüse der Saison: z.B. Itch - armenischer Bulgursalat; Makdous - gefüllte Auberginen; Tabouléh - Petersiliensalat; Mangoldstiele mit Tahinisauce. etc.
Beirut war über Jahrhunderte hinweg neben Alexandria und Smyrna einer der 3 wichtigsten Häfen des östlichen Mittelmeeres.
Dieser Kurs ist meine Reisevorbereitung für den Libanon. Meine Liebe zur arabisch-nordafrikanischen Küche geht zurück auf meine Jugend, als ich oft mit Algeriern und Palästinensern kochte. Die ersten Reisen ohne Eltern führten mich dann nach Griechenland, wo ich zu meiner Überraschung viele Parallelen mit jenen Küchen entdeckte. Doch erst als ich mich mit der Geschichte des östlichen und südlichen Mittelmeeres beschäftigte, verstand ich den osmanischen Einfluss, der diese Landschaften verbindet. Die Türken mögen vor Wien zunächst gescheitert sein, inzwischen ist zumindest ihr kulinarischer Einfluss bis nach Kreuzberg zu spüren.
Aber dennoch haben die verschiedenen Länder eine eigenständige Küche. So sind kommen im Libanon die z.B. im Iran oder der Türkei beliebten Kombinationen von herzhaften Gerichten mit Früchten NICHT vor. Kohlenhydrate beziehen Libanesen neben Brot aus Burghul (Bulgur) und Frikeh.
Menu:
Fatteh – Kichererbsen, Tahin und Auberginen
Linsensuppe mit Mangold und Zitrone
Mezze:
Mutabal mit Granatapfel
Mangoldstiele
Kartoffelkibbeh
Itch - armenischer Bulgursalat
Tabouléh – Petersiliensalat
Rote Bete mit Tahin
geschmorte Lammhaxen mit Mograbieh
Sfouf - Kurkumakuchen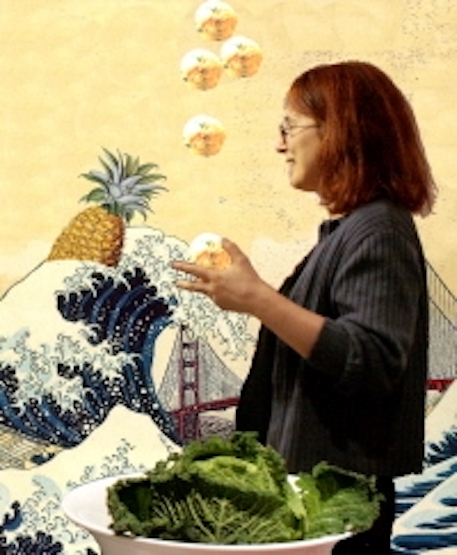 Lisa Shoemaker
Lisa Shoemaker cooks and bakes with children, young people and grown-ups. She also writes and translates cook books. Works: Let's Cook (for young people) and Englisch kochen, as Amerikanisch Kochen from the series Gerichte und ihre Geschichte. She translated among others Cynthia Barcomi's baking books.
Class type:
Cooking in groups — In this class you will form small groups and each group will be cooking some of the dishes listed in the menu. The other dishes will be cooked by your fellow cooking class participants. However, important steps and basic techniques will be demonstrated in front of the entire class and/or practiced together. Of course you will also see and hear what is going on around you and you are very welcome to ask the teacher questions. The class is designed for you to experience diverse dishes and menu components.
Location: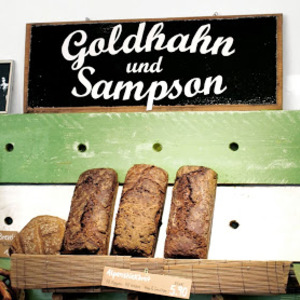 G und S Prenzlauer Berg
Dunckerstr. 9
10437 Berlin
Date:
Wednesday 04 September, 2019 at 19:00 h
Duration:
Generally 3 to 3.5 hours (no guarantee).
Participants:
max. 12 persons
Menu:
Fatteh – Kichererbsen, Tahin und Auberginen
Linsensuppe mit Mangold und Zitrone
Mezze:
Mutabal mit Granatapfel
Mangoldstiele
Kartoffelkibbeh
Itch - armenischer Bulgursalat
Tabouléh – Petersiliensalat
Rote Bete mit Tahin
geschmorte Lammhaxen mit Mograbieh
Sfouf - Kurkumakuchen