Kochen mit Lieblingswinzerpaar: Baden Edition
Saturday, 16 November 2019 at 19 h
Cooking class in German
Kochen mit Lieblingswinzerpaar: Baden Edition
Winzerpaar kommt zum kochen (und hat Wein dabei)
with Gabriele Engesser, Holger Koch und Yogini Hufendiek
Ein Kochabend mit unserer Köchin Yogini Hufendiek und dem Winzerpaar Gabriele Engesser und Holger Koch.
Die Weine des Weingutes Holger Koch aus Bickensohl am badischen Kaiserstuhl verkaufen wir seit vielen Jahren mit großer Begeisterung. Am Kaiserstuhl gibt es viele gute Winzer, aber sehr wenige, die Weine mit diesem Schliff, dieser Frische und Eleganz, dieser unglaublichen Ausgewogenheit und vor allem auch Lagerfähigkeit hinbekommen. Natürlich macht man sehr gute Weiß- und Grauburgunder, inzwischen aber auch großartigen Chardonnay und vor allem eine ganze Reihe sehr burgundischer Pinot Noirs. Die Arbeit im Weinberg basiert auf biodynamischen Prinzipien, im Keller ist Holger undogmatisch und experimentierfreudig und schafft es dadurch Jahr für Jahr, absolut überzeugende Qualitäten zu erzeugen. Aber all das und vieles mehr werden die Zwei an dem Abend selbst erzählen und dazu eine Menge Weine zum Verkosten dabei haben.
Menu:
Grießnockerlsuppe
Wildkräutersalat mit Schafskäse, gerösteten Kürbiskernen und steirischem Kürbiskernöl
Ungarisches Gulasch mit selbstgemachten Nockerln oder Galuska, wie sie in Ungarn genannt werden
Gefüllte Palatschinken mit Marillenröster und Vanillesoße
Gabriele Engesser, Holger Koch und Yogini Hufendiek
Über das Winzerpaar Gabriele Engesser und Holger Koch
Seit Generationen betreibt unsere Familie Rebbau am Kaiserstuhl. Mit dem Vorsatz nur Burgunder zu vinifzieren, begannen wir 1999 unsere Weine selbst auszubauen. Lebendige, authentische und eigenständige Weine wollen wir in unserem kleinen Familienbetrieb anbauen. Dazu bewirtschaftet Holger Koch heute mit seiner Frau Gabriele Engesser und seinen Eltern 7,5 ha Weinberge.
Über Yogini Hufendiek
Aufgewachsen in Westfalen verbrachte ich die Ferien bei meiner ungarischen Oma, die so leckere ungarische Hausmannskost kochen konnte und in deren Küche magische Gerüche schwebten. Lange Zeit liebte ich das Essen mehr als das Kochen, weil ich das Gefühl hatte, nicht genug darüber zu wissen, was das Kochen ausmacht. Dann wurde die Sehnsucht danach, selber richtig gut kochen zu können immer stärker. Deshalb entschied ich mich, eine richtige Ausbildung zur Köchin zu machen. Nach Jahren auf verschiedenen Posten in angesagten Berliner Restaurants möchte ich in meinen Kursen dazu ermutigen, mehr selber zu Hause zu kochen und die Berührungsängste auf unbekannten Koch-Gebieten zu verringern.
Photo: Weingut Holger Koch
» More classes with Gabriele Engesser, Holger Koch und Yogini Hufendiek
Class type:
Cooking in groups — In this class you will form small groups and each group will be cooking some of the dishes listed in the menu. The other dishes will be cooked by your fellow cooking class participants. However, important steps and basic techniques will be demonstrated in front of the entire class and/or practiced together. Of course you will also see and hear what is going on around you and you are very welcome to ask the teacher questions. The class is designed for you to experience diverse dishes and menu components.
Location: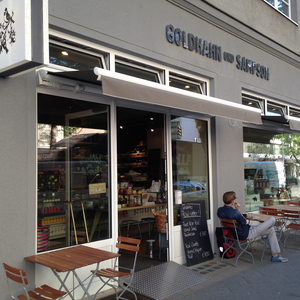 G und S Charlottenburg
Wilmersdorfer Str. 102/103
10629 Berlin
Date:
Saturday 16 November, 2019 at 19:00 h
Duration:
Generally 3.5 to 4 hours (no guarantee).
Participants:
max. 16 persons
Menu:
Grießnockerlsuppe
Wildkräutersalat mit Schafskäse, gerösteten Kürbiskernen und steirischem Kürbiskernöl
Ungarisches Gulasch mit selbstgemachten Nockerln oder Galuska, wie sie in Ungarn genannt werden
Gefüllte Palatschinken mit Marillenröster und Vanillesoße