Kochen mit Lieblingswinzerin: Österreich Edition
Friday, 8 November 2019 at 19 h
Cooking class in German
Kochen mit Lieblingswinzerin: Österreich Edition
Winzerin kommt zum kochen (und hat Wein dabei)
with Marion Ebner-Ebenauer und Yogini Hufendiek
Ein Kochabend mit unserer Köchin Yogini Hufendiek und der Winzerin Marion Ebner-Ebenauer.
Marion betreibt zusammen mit ihrem Mann Manfred das famose Weingut Ebner-Ebenauer im nördlichen Weinviertel in Niederösterreich. Seit Jahren gehören sie zu unseren absoluten Lieblingen. Von ihren vielfältigen Lagen rund um Poysdorf holen die Zwei charakterstarke Weine, die inzwischen zur Gebietsspitze gehören. Sie arbeiten vielfach mit sehr altem Rebbestand, bewirtschaften die Weingärten ökologisch und haben eine klare Philosophie bei der Weinbereitung. Das merkt man ihren Weinen auch auch. Natürlich machen sie herausragende Grüne Veltliner, aber eben auch sehr gute Rieslinge, Weißburgunder und natürlich auch burgundisch anmutende Rotweine. Außerdem sind sie sehr berühmt für ihren Sekt, der aber immer ausverkauft ist.. Aber all das und vieles mehr wird die wunderbare Marion an dem Abend selbst erzählen und dazu eine Menge Weine zum Verkosten dabei haben.
Ihre Weine begleiten ganz wunderbar das Menü, das Yogini, inspiriert von der Küche ihrer ungarischen Großmutter, für euch erdacht hat. Ein Klassiker folgt auf den nächsten...macht euch bereit für einen österreichisch-ungarischen Abend!
Menu:
Gruß aus der Küche
Mini Schnitzel vom Kalb mit Erdäpfelsalat / *Vegetarisch:. Ausgebackene Champignons mit Erdäpfelsalat
Wildschweinrücken, Pastinakenpurée und Radicchio / *Vegetarisch.: Wirsing
Käseauswahl mit Chutney und Früchtebrot
Marion Ebner-Ebenauer und Yogini Hufendiek
Über Marion Ebner-Ebenauer
...weil das Ganze mehr ist als die Summe seiner Teile. Weil aus all diesen Elementen ein unvergleichlicher Ort entsteht, an dem sich Menschen und Weine wohl fühlen. Ja, und auch gar nicht anders können. Denn Marion und Manfred (ihr Partner) haben das Leben und die Natur verstanden, die Wichtigkeit von Gegensätzen, von Geben und Nehmen. Was sein muss, muss sein. Ohne Kompromisse. Auch das gilt sowohl für Menschen als auch für ihre Weine, die in dem 400 Jahre alten Keller ruhen.
Über Yogini Hufendieck
Aufgewachsen in Westfalen verbrachte ich die Ferien bei meiner ungarischen Oma, die so leckere ungarische Hausmannskost kochen konnte und in deren Küche magische Gerüche schwebten. Lange Zeit liebte ich das Essen mehr als das Kochen, weil ich das Gefühl hatte, nicht genug darüber zu wissen, was das Kochen ausmacht. Dann wurde die Sehnsucht danach, selber richtig gut kochen zu können immer stärker. Deshalb entschied ich mich, eine richtige Ausbildung zur Köchin zu machen. Nach Jahren auf verschiedenen Posten in angesagten Berliner Restaurants möchte ich in meinen Kursen dazu ermutigen, mehr selber zu Hause zu kochen und die Berührungsängste auf unbekannten Koch-Gebieten zu verringern
Photo: Weingut Ebner-Ebenauer
» More classes with Marion Ebner-Ebenauer und Yogini Hufendiek
Class type:
Cooking in groups — In this class you will form small groups and each group will be cooking some of the dishes listed in the menu. The other dishes will be cooked by your fellow cooking class participants. However, important steps and basic techniques will be demonstrated in front of the entire class and/or practiced together. Of course you will also see and hear what is going on around you and you are very welcome to ask the teacher questions. The class is designed for you to experience diverse dishes and menu components.
Location: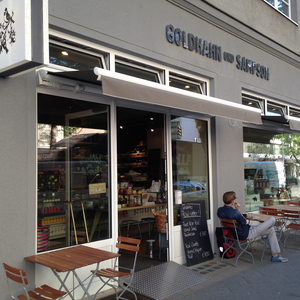 G und S Charlottenburg
Wilmersdorfer Str. 102/103
10629 Berlin
Date:
Friday 08 November, 2019 at 19:00 h
Duration:
Generally 3.5 to 4 hours (no guarantee).
Participants:
max. 16 persons
Menu:
Gruß aus der Küche
Mini Schnitzel vom Kalb mit Erdäpfelsalat / *Vegetarisch:. Ausgebackene Champignons mit Erdäpfelsalat
Wildschweinrücken, Pastinakenpurée und Radicchio / *Vegetarisch.: Wirsing
Käseauswahl mit Chutney und Früchtebrot