Kimchi Asado: Argentina meets Korea
Friday, February 14, 2020 at 19 h
Cooking class in German
Kimchi Asado: Argentina meets Korea
Fusion cuisine
with Federico Carrasco
What happens when Korean kimchi and Argentinian asado meet: a looot! The flavours of the two cuisines work so well together, you will be wondering, why you did not combine them before. :) In this class we will team up real classics from both cuisines. Techniques will be taught by cooking new dishes and fresh ideas for combining different styles of cooking will be given. A class for everyone who seeks to enter a new spheres in their own kitchen.
Menu:
Gochukaro beef empanada: knife cut beef with Korean spices in the classic pastry
Asado al Horno and Kimchi: sirloin beef marinated in a combination of traditional Bechu Kimchi and Chimichurri, baked in the oven on low temperatures, accompanied by a salad made from red beet, corn and soy eggs
Panna Cotta with 'Kkul Daechu Cha': Panna cotta with Juju berry and honey sauce
Federico Carrasco
Federico kommt aus Buenos Aires, Argentinien, wo er seine ersten Erfahrungen in der professionellen Gastronomie sammelte. Zusammen mit vier Freunden veranstaltete er kulinarische Themenabende und Caterings. Hinzu kam die Beratung von gastronomischen Betrieben. Sein Ziel war dabei immer so viel wie möglich zu kochen, reisen, lernen und Neues kennenzulernen. Vor fast 10 Jahren kam er nach Berlin, davor hat er in vielen Ländern gelebt, viele Sprachen und Küchen erlernt. Er kennt sich aus mit modernen Kochtechniken und der molekularen Küche und liebt es, reisend und kulinarisch die Kontinente zu erkunden: Amerika, Europa, und Asien (insbesondere Korea). Unterschiedliche Länderküchen zu verbinden macht ihm Spaß und lässt ihn immer wieder Neues entdecken. Federico ist als Gastronomieberater tätig und arbeitet als Patissier in seinem eigenen, frisch gegründeten, Cateringunternehmen, das sich auf Desserts im Glas spezialisiert hat.
Class type:
Cooking in groups — In this class you will form small groups and each group will be cooking some of the dishes listed in the menu. The other dishes will be cooked by your fellow cooking class participants. However, important steps and basic techniques will be demonstrated in front of the entire class and/or practiced together. Of course you will also see and hear what is going on around you and you are very welcome to ask the teacher questions. The class is designed for you to experience diverse dishes and menu components.
Location: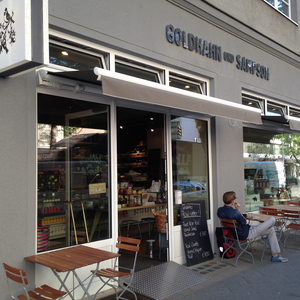 G und S Charlottenburg
Wilmersdorfer Str. 102/103
10629 Berlin
Date:
Friday 14 February, 2020 at 19:00 h
Duration:
Generally 3.5 to 4 hours (no guarantee).
Participants:
max. 16 persons
Menu:
Gochukaro beef empanada: knife cut beef with Korean spices in the classic pastry
Asado al Horno and Kimchi: sirloin beef marinated in a combination of traditional Bechu Kimchi and Chimichurri, baked in the oven on low temperatures, accompanied by a salad made from red beet, corn and soy eggs
Panna Cotta with 'Kkul Daechu Cha': Panna cotta with Juju berry and honey sauce