Journey to Jerusalem
Thursday, August 20, 2020 at 19 h
Cooking class in German
Journey to Jerusalem
Kulinarisches aus dem Meltingpot der Religionen
with Shay Dashevsky
Jerusalem als Schnittstelle zwischen Ost und West, zwischen verschiedenen Kulturen und Religionen bietet auch auf kulinarischer Ebene eine fantastische Mischung unterschiedlichster Traditionen. Hier prallen die verschiedensten Kochkünste aufeinander: Jüdisch, Palästinensisch, Nordafrikanisch, Persisch, Osteuropäisch und viele mehr.
In diesem Kurs werden wir die kulinarischen Schätze Jerusalems kennenlernen und einige typische Gerichte kosten, die diese wundervolle Stadt zu bieten hat.
In Zeiten von Corona: Wichtige Hinweise
Wir haben ein ausführliches Schutz- und Hygienekonzept für die Kochschule erstellt, und vor dem Kurs wirst du von unseren Kochkursassistenten ausführlich über die Regeln informiert. Konkret mussten wir ein paar Änderungen im Ablauf und der Struktur vornehmen, hier die wichtigsten Punkte:
Ein Ticket für bis zu vier Personen: Momentan bieten wir ausschließlich Buchung einer Kochstation für bis zu 4 Personen an. Die Station kann mit bis zu vier Personen aus einem Haushalt oder aus miteinander vertrauten Haushalten belegt werden. Natürlich ist es auch möglich, mit einer, zwei oder drei Personen an einer Station zu kochen, aber es müssen immer vier Kochkurstickets erworben werden. Warum machen wir das? Aufgrund der geltenden Abstandsregeln ist es nicht möglich, Personen, die nicht zu einem Haushalt gehören oder sich kennen, gemeinsam an einer Station kochen zu lassen. Da wir nur vier Stationen einrichten können, würden Einzelbuchungen bedeuteten, dass nur vier Personen an einem Kurs teilnehmen könnten. Kurse mit so wenigen Teilnehmern sind aus wirtschaftlichen Gründen leider nicht möglich, weshalb wir (vorerst) die Regelung der "Viererfahrkarte" getroffen haben.
Jede Station kocht alle Gerichte selbst: Geteilt werden die Gerichte nur mit den Personen der eigenen Station. So erlernt man alle Schritte und Techniken des Kurses. Teilweise bereitet der Kochlehrer unliebsame Arbeiten wie z.B. Zwiebeln schälen vor, für einen reibungslosen Ablauf.
Maskenpflicht ist kein Witz: Beim Betreten des Ladens und auch beim Kochen müssen alle Kochkursteilnehmer*innen sowie Kochkurslehrer*in und Assistent*innen einen Mund-Nasen-Schutz tragen. Beim Essen am Tisch muss keine Maske getragen werden.
Alkoholausschank findet erst zum Essen am Tisch statt, dann aber wie gewohnt, in rauen Mengen :)
Beim Kochen kann man nicht in der Küche herumlaufen und die anderen Stationen 'besuchen'. Alle bleiben an ihren Stationen, so können wir den Mindestabstand einhalten. Beim Essen gibt es 4 Tische für je bis zu 4 Personen, die sich leider auch nicht besuchen dürfen.
Wir müssen auf die Einhaltung des Hygienekonzepts bestehen. Unsere Kochkursassisten*innen helfen natürlich dabei, dass alles entspannt abläuft.
Menu:
Selbstgebackenes Pitabrot
Hummus
Kräutersalat mit gerösteten Mandeln
Shakshuka: in Tomaten-Paprika-Sauce pochierte Eier
Bananenkuchen mit Schokolade, Rosensahne und Halvacreme
(Die Gerichte sind vegetarisch, größtenteils auch vegan)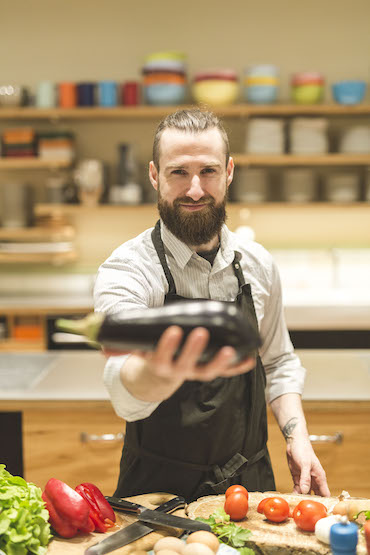 Shay Dashevsky
Born in Israel, Shay grew up in a big melting pot, literally. Raised in a former Soviet family, Shay witnessed and tasted Western Asian influences from his grandmother first hand. Surrounded with smells coming from the mixed Moroccan, Iranian, Yemeni neighborhood in the suburban Israeli city, where every open windows was a sweet invitation, Shay began his never ending journey to fusion his past and present, specially after moving to Jaffa. Arabic and Western Asian, Middle Eastern, Ukrainian and Georgian dishes: this course is an open invitation to join this passion for food.
Class type:
Cooking in groups — In this class you will form small groups and each group will be cooking some of the dishes listed in the menu. The other dishes will be cooked by your fellow cooking class participants. However, important steps and basic techniques will be demonstrated in front of the entire class and/or practiced together. Of course you will also see and hear what is going on around you and you are very welcome to ask the teacher questions. The class is designed for you to experience diverse dishes and menu components.
Location: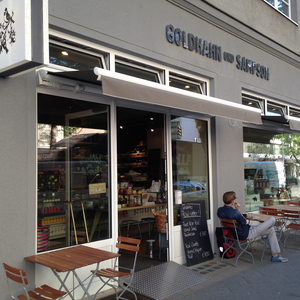 G und S Charlottenburg
Wilmersdorfer Str. 102/103
10629 Berlin
Date:
Thursday 20 August, 2020 at 19:00 h
Duration:
Generally 3.5 to 4 hours (no guarantee).
Participants:
max. 16 persons
Menu:
Selbstgebackenes Pitabrot
Hummus
Kräutersalat mit gerösteten Mandeln
Shakshuka: in Tomaten-Paprika-Sauce pochierte Eier
Bananenkuchen mit Schokolade, Rosensahne und Halvacreme
(Die Gerichte sind vegetarisch, größtenteils auch vegan)