Italian Basics: Risotto in English
Friday, February 07, 2020 at 19 h
Cooking class in English
Italian Basics: Risotto in English
Become the Queens and Kings of Risotto
with Jørgen Smidstrup aka Camillo
To cook a perfect risotto is a treat – for you, your friends, partner, family, guests you invite to your home. So better learn how to make your perfect risotto! Risotto is a delicate, elegant and incredibly tasty dish from the Italian kitchen's top kitchen drawer. A dish that really arouses joy. For a Tuesday evening and for a Friday with friends coming over. And it is actually incredibly easy to make a risotto – when you master it, and accept the fact that it needs your full attention for 20 minutes.
Learn how to cook the basic risotto, and learn how to make wonderful variations of it. Learn about the different kind of rice, the importance of a good stock, white wine or Noilly Prat. Get to know the basic equipment for your risotto kitchen. Together we create three different risottos, all based on the same basic recipe. We'll eat together – share ideas and talk about the world of risotto. Enjoy an evening with Camillo and a bunch of other (coming) risotto chef's.
Menu:
Risotto Bianco: the classic, basic risotto
Tomato risotto: the wonderful everyday risotto
Risotto Extravagance: the luxury version with blue cheese and walnuts
Jørgen Smidstrup aka Camillo
The teacher, Jørgen Smidstrup runs the pop up restaurant Camillo's Kitchen, he's based in Berlin, and travel the world with his food concept. In the summer he and his partner run Camillos Summer Kitchen at the Danish west coasts for a period of three months. In 2017 he came out with the cook book "Food, that makes people talk to each other" (in Danish, which is he's native tongue). He's quite sure that he in a former life was Italian...
Photo: Malthe Ivarsson
Class type:
Cooking in teams of two — In this class you will cook together with a partner (or sometimes 2 partners) at one station. You will be preparing every dish of the menu yourself. Most of the ingredients, already correctly measured, will be waiting for you at your station, so you can start cooking more quickly. Crucial techniques and/or the use of special equipment will be demonstrated by the teacher before you'll have a go yourself. This class is perfect for everyone who likes to have a real hands-on experience.
Location: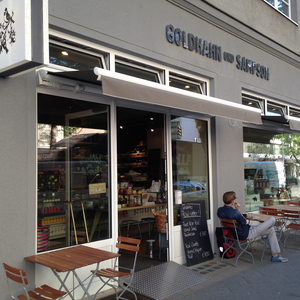 G und S Charlottenburg
Wilmersdorfer Str. 102/103
10629 Berlin
Date:
Friday 07 February, 2020 at 19:00 h
Duration:
Generally 3.5 to 4 hours (no guarantee).
Participants:
max. 16 persons
Menu:
Risotto Bianco: the classic, basic risotto
Tomato risotto: the wonderful everyday risotto
Risotto Extravagance: the luxury version with blue cheese and walnuts