Huo Guo: Chinesischer Feuertopf
Saturday, February 15, 2020 at 18 h
Cooking class in German
Huo Guo: Chinesischer Feuertopf
Festive fondue chinese style
with Yaxin Yang
Ein "Huo Guo" chinesischer Feuertopf ist das ideale Essen für Partys und gesellige Runden. Der Feuertopf ist ein sogenanntes Brüh-Fondue. Dabei sitzen die "Kontrahenten" um einen Topf brodelnder Suppe und fischen sich mit ihren Stäbchen oder Fonduesieb gegenseitig die besten Stückchen weg. Natürlich schanzen sie sich anschließend dieselben in den Mund. Das Feuertopf ist vor allem im Winter sehr beliebt, die ganze Familie und Freunden sitzen zusammen, kochen und essen zusammen. Jeder kann sich das nehmen was er gerne essen möchte, in der Brühe schwenken und gar kochen. Diese Feierliche Mahlzeit dauert Stunden, die Atmosphäre ist großartig, also ein richtiger "Feuerzauber"!
Menu:
Brühe: Rinderknochenbrühe (scharf oder mild), Gemüsebrühe (vegetarische Variante)
Zum Garen: Garnelen, Titenfisch, Fischfilet, sehr dünn geschnittene Rindfleisch und Lammfleisch, Blattgemüse, Kartoffeln, Pilze, Tofu, Glasnudeln
Original Feuertopf Sauce Peking Art
Original Feuertopf Sauce Szechuan Art (richtig scharf!)
Süß-Sauer-Sauce
Verschiedene frische Kräuter
Yaxin Yang
Yaxin Yang, 1977 in Peking geboren und aufgewachsen, lebt in Berlin und Peking. Nach dem Studienabschluss als Dipl. Illustratorin an der HAW Hamburg, ist sie seit 2008 als freischaffende Illustratorin und Kinder- und Kochbuchautorin tätig. Erleben und Experimentieren, authentisches chinesisches Essen mit ausgewählten biologischen und regionalen Zutaten für Gesundheit und Wohlbefinden zu entwickeln ist ihre Leidenschaft und Ausdruck ihres Kochstils. "Die Kochkunst ist meine Welt, voller Lust und Vitalität"!
Mehr über Yaxin Yang: www.soyasoyang.com
Photo: Feipeng Jiang
Class type:
Cooking in groups — In this class you will form small groups and each group will be cooking some of the dishes listed in the menu. The other dishes will be cooked by your fellow cooking class participants. However, important steps and basic techniques will be demonstrated in front of the entire class and/or practiced together. Of course you will also see and hear what is going on around you and you are very welcome to ask the teacher questions. The class is designed for you to experience diverse dishes and menu components.
Location: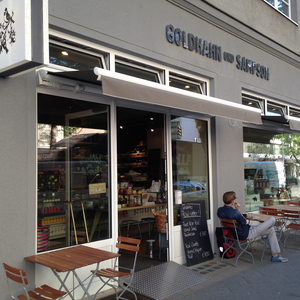 G und S Charlottenburg
Wilmersdorfer Str. 102/103
10629 Berlin
Date:
Saturday 15 February, 2020 at 18:00 h
Duration:
Generally 3.5 to 4 hours (no guarantee).
Participants:
max. 16 persons
Menu:
Brühe: Rinderknochenbrühe (scharf oder mild), Gemüsebrühe (vegetarische Variante)
Zum Garen: Garnelen, Titenfisch, Fischfilet, sehr dünn geschnittene Rindfleisch und Lammfleisch, Blattgemüse, Kartoffeln, Pilze, Tofu, Glasnudeln
Original Feuertopf Sauce Peking Art
Original Feuertopf Sauce Szechuan Art (richtig scharf!)
Süß-Sauer-Sauce
Verschiedene frische Kräuter