All About Game
Cooking class in German
All About Game
with Petra Rimkus
An die Zubereitung von Wild trauen sich viele nicht heran. Dabei ist Wildfleisch von hoher Qualität, voller Geschmack, naturnah und kommt oft aus der Region. Petra wird Tipps und Tricks vermitteln und ihre Bezugsadressen für beste Qualitäten preisgeben.
Gelernt werden soll:
Auslösen und Vorbereiten des Fleisches
Verarbeiten der Knochen und Abschnitte zu Jus (Grundsauce)
Verschiedene Zubereitungsmethoden: Räuchern/Braten/Schmoren.
Menu (example):
Gebeiztes Hirschfilet auf Walchenbrot mit Kürbiskernpesto
Rosa gegarter Rehrücken mit süss-saurem Linsensalat und einer Wildjus
Geschmortes vom Hirsch mit zweierlei Kürbis und Rotkohl
Quitten mit Portwein, Walnüssen und Lebkuchencrumble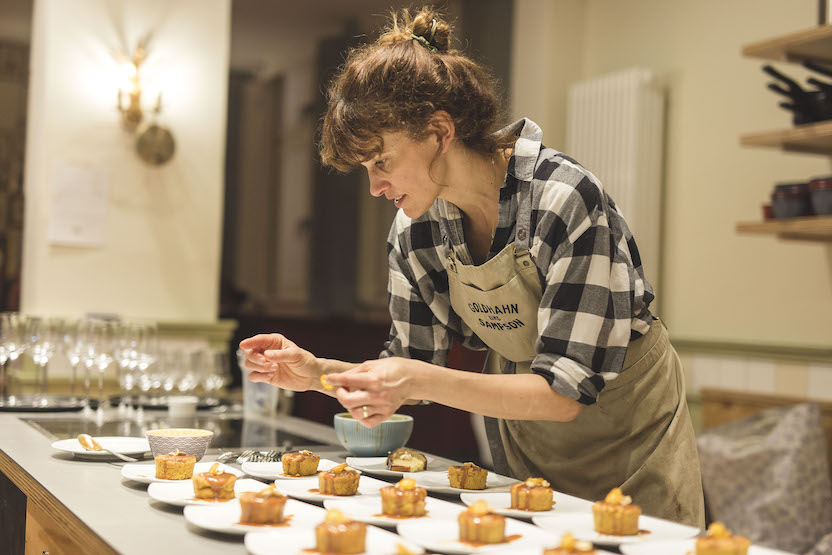 Petra Rimkus
Petra Rimkus, Jahrgang 75, wurde in der Lüneburger Heide geboren und klaute schon als Kind ihrer Oma die Töpfe und Löffel aus der Küche, um im Garten zu kochen. Damit war ihr Schicksal besiegelt und ihr beruflicher Werdegang vorgezeichnet. Seit 2002 tobt sich Petra in Berlins Küchen aus und hat 2012 ihren eigenen Cateringservice deli.cat gegründet.
Photo: Shay Dashevsky
Class type:
Cooking in groups — In this class you will form small groups and each group will be cooking some of the dishes listed in the menu. The other dishes will be cooked by your fellow cooking class participants. However, important steps and basic techniques will be demonstrated in front of the entire class and/or practiced together. Of course you will also see and hear what is going on around you and you are very welcome to ask the teacher questions. The class is designed for you to experience diverse dishes and menu components.
Duration:
Generally 3.5 to 4 hours (no guarantee).
Menu (example):
Gebeiztes Hirschfilet auf Walchenbrot mit Kürbiskernpesto
Rosa gegarter Rehrücken mit süss-saurem Linsensalat und einer Wildjus
Geschmortes vom Hirsch mit zweierlei Kürbis und Rotkohl
Quitten mit Portwein, Walnüssen und Lebkuchencrumble