Game Basics: Quail and Rabbit
Tuesday, June 9, 2020 at 19 h
This cooking class is expected to be available for booking on Wednesday 01 July, 2020.
Cooking class in English
Game Basics: Quail and Rabbit
butchering and cooking quail and rabbit
with Anthony Joynes
Game is definitely a touch-stone when it comes to cooking meat: only experienced cooks dare to prepare, venison, quail or rabbit. These products are not only quite expensive but also next to uneatable when prepared the wrong way. In this class you will learn the seasons of game, which cuts to use, and different ways of preparing and cooking it. You will also talk about the perfect sides to accompany those dishes and what to avoid. Is there anything more glorious then inviting your friends and family to a perfectly home cooked glorious dinner?
Menu:
venison tartar, hazelnut, cranberries (Amouse)
quail, celeriac puree and coleslaw
rabbit ragout with olives, lemon and oregano, pasta
deconstructed NY cheesecake, seasonal fruit, oats
Anthony Joynes
Anthony Joynes is in the cooking industry since 20 years, he´s trained in traditional french cuisine as well as fine italian food and has a personal love for spicy asian food. His career started in New Zealand where he was born, and took him to some of the best restaurants in Australia before working in Michelin-starred restaurants in London and finally Berlin. Since three years he has settled down in Charlottenburg, running the restaurant "Joynes Kitchen" together with his wife. Based on his traditional training, he loves to work with seasonal ingredients, using all parts of the animal, and working as resourceful as possible while creating flavourful and surprising dishes.
Photo: Marco Hartz
Location: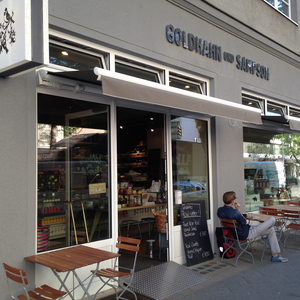 G und S Charlottenburg
Wilmersdorfer Str. 102/103
10629 Berlin
Date:
Tuesday 09 June, 2020 at 19:00 h
Duration:
Generally 3.5 to 4 hours (no guarantee).
Participants:
max. 16 persons
Menu:
venison tartar, hazelnut, cranberries (Amouse)
quail, celeriac puree and coleslaw
rabbit ragout with olives, lemon and oregano, pasta
deconstructed NY cheesecake, seasonal fruit, oats