Winzersommer Vol. 3 mit Michael Teschke und Alexander Loersch
Saturday, 3 August 2019 at 19 h
Seminar and tasting in German
Winzersommer Vol. 3 mit Michael Teschke und Alexander Loersch
Winzersommer Vol. 1 mit Georg Meier aus der Südpfalz
with Michael Teschke und Alexander Loersch
Bei unseren nächsten Winzersommer-Abend haben wir gleich zwei unserer Lieblingswinzer zu Gast.
Michael Teschke ist schon lange einer unserer Favoriten. Vielfach wird er als die Silvaner-Seele Rheinhessens bezeichnet. Aus dieser völlig zu Unrecht unterschätzten Rebsorte macht er unglaublich charakterstarke, terroirgeprägte Weine, die niemanden kalt lassen. Er hat immer schon der Industrie den Rücken gekehrt und sehr naturnah gewirtschaftet, in den letzten Jahren hat er sich darüber hinaus auch weiter dem Thema Naturwein gewidmet. Neben den spannenden Silvanern hat er auch ein Händchen für Riesling und ist einer der ganz wenigen, die aus Portugieser seriösen Rotwein machen.
Auch der zweite Winzer an diesem Abend steht für einen eigenen Stil. Alexander Loersch und seine Eltern bewirtschaften Parzellen in einigen der besten Lagen der Mittelmosel. Die besondere Herkunft merkt man den Weinen auch an. Frische, Klarheit, Würze und eine immer deutlich hervortretende Schiefernote sind typisch für Alexanders Weinstil. Die trockenen Rieslinge sind straff und animierend, die feinherben sehr saftig, aber auch deutlich vom Terroir bestimmt. Für alle, die keine Angst vor restsüßen Weinen ist der Höhepunkt bestimmt die Spätlese aus der Trittenheimer Apotheke...
Dazu gibt's wie immer Käse, Brot und unser tolles Team!
Dauer: 19-22 Uhr
Class type:
Seminar and tasting
Location: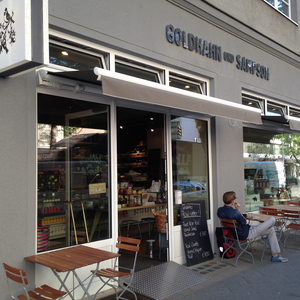 G und S Charlottenburg
Wilmersdorfer Str. 102/103
10629 Berlin
Date:
Saturday 03 August, 2019 at 19:00 h
Duration:
Generally 3.5 to 4 hours (no guarantee).
Participants:
max. 99 persons