Döner Teller Versace aka Plantbased in Istanbul
Wednesday, March 25, 2020 at 19 h
Cooking class in German
Döner Teller Versace aka Plantbased in Istanbul
Unglaublich, aber wahr: zuckerfrei, getreidefrei, mehlfrei, low carb, glutenfrei, vegan
with Ulrike Seeber
Türkische Küche einmal anders: Ulrike Seeber, "High Energy" Ernährungscoach und passionierte "Healthy" Köchin zeigt, dass türkische Küche nicht nur aus Fleischbergen und mehligen Backwaren bestehen muss. Die Wahl-Berlinerin, die selbst vielfach die kulinarische Vielfalt Istanbuls entdeckt hat, entführt euch einen Abend lang ins osmanische Reich: Mit einer jungen, authentischen und gesunden Küche. Wir starten mit dem türkischen Nationalgetränk Salep aus Mandelmilch und Zimt. Als Vorspeise werden wir Cacık, eine erfrischende Vorspeise aus Gurken und einer Mandel-Minz- Creme zaubern. Das Herzstück des Menüs is ein rein pflanzlicher Dönerteller. Dabei entdecken wir, dass man aus Austernpilzen und feinen Röst- und Raucharomen deftiges "Kebabfleisch" herstellen kann. Dazu gibt es eine Mandel-Kräutersauce, frisches Gemüse und glutenfreies und mehlfreies Low Carb Fladenbrot, was im Handumdrehen in der Pfanne gezaubert werden kann. Die kulinarische Reise nach Istanbul wird abgerundet durch Kabak Tatlısı, dem türkischen Dessertklassiker aus süßem Kürbis, Mandelrahm und Walnusscrunch.
Menu:
Salep aus Mandelmilch und Zimt
Cacik aus Gurken und Mandel-Minz-Creme
Dönerteller mit Austernpilzen, Mandel-Kräuter-Sauce, frischem Gemüse und glutenfreiem Fladenbrot
Kabak Tatlısı, aus süßem Kürbis, Mandelrahm und Walnusscrunch
Ulrike Seeber
"Die Energie unserer Nahrung wird unmittelbar zur Energie unseres Selbst" Ulrikes Mission ist es Menschen durch eine gesunde, zuckerfreie und überwiegend pflanzliche Ernährungsweise zu Energiechampions zu machen. Nachdem sie durch ein medizinisches Wunder nur knapp einer Querschnittslähmung entkam, traf sie die Entscheidung alles in ihrer Macht stehende zu tun, um ihre Gesundheit und die ihrer Mitmenschen zu erhalten. Sie lernte bei den besten Köchen der Welt wie man "Plantbased", "vegane Rohkost" und "Ketogenes bzw Low Carb Essen" zubereitet und sah wie Menschen durch eine bloße Ernährungsumstellung ihre Lebensenergie oder ihre Libido steigern konnten, mit Genuss an Gewicht vorloren und dabei ihre Gesundheit zurückeroberten. Neben ihrer Arbeit als Ernährungscoach und Kochbuchautorin gibt sie Workshops und Seminare für Unternehmen und Menschen, die ihre körperliche und mentale Energie steigern wollen
Photo: Ulrike Seeber
Class type:
Cooking in groups — In this class you will form small groups and each group will be cooking some of the dishes listed in the menu. The other dishes will be cooked by your fellow cooking class participants. However, important steps and basic techniques will be demonstrated in front of the entire class and/or practiced together. Of course you will also see and hear what is going on around you and you are very welcome to ask the teacher questions. The class is designed for you to experience diverse dishes and menu components.
Location: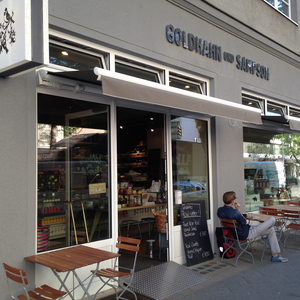 G und S Charlottenburg
Wilmersdorfer Str. 102/103
10629 Berlin
Date:
Wednesday 25 March, 2020 at 19:00 h
Duration:
Generally 3.5 to 4 hours (no guarantee).
Participants:
max. 16 persons
Menu:
Salep aus Mandelmilch und Zimt
Cacik aus Gurken und Mandel-Minz-Creme
Dönerteller mit Austernpilzen, Mandel-Kräuter-Sauce, frischem Gemüse und glutenfreiem Fladenbrot
Kabak Tatlısı, aus süßem Kürbis, Mandelrahm und Walnusscrunch