DONBURI: Gyudon Bowl
Wednesday, June 10, 2020 at 19 h
This cooking class is expected to be available for booking on Wednesday 01 July, 2020.
Cooking class in English
DONBURI: Gyudon Bowl
A fast and easily prepared daily meal
with Fumiko Suzuki
What Japanese usually eat? The answer is not Sushi. Donburi - japanese rice bowl- is fast and easy prepareted japanese daily meal. Beloved as lunch since it's quick, filling and delicious. There is a variety of combination for the topping, vegan, vegetarian, meaty or fishy Donburi. You will definitely find your favourite Donburi!
Menu:
Gyudon: Rice bowl topped with mildly sweet simmered beef and onion
Miso Shiru: Miso soup with tofu
Tsukemono: pickled vegetables
Okuchinaoshi: tiny sweet bites
Fumiko Suzuki
Fumiko Suzuki, aka gourmie, is passionate cook and patissier from Tokyo, spent her early gastronomic days in France, Switzerland, Vienna, South Germany. Today in Berlin, she operates different culinary projects and runs several cooking workshops. Her focus is to introduce the japanese daily life by cooking and eating, and to let discover the secret side of Japan.
Photo: ©gourmie
Class type:
Cooking in teams of two — In this class you will cook together with a partner (or sometimes 2 partners) at one station. You will be preparing every dish of the menu yourself. Most of the ingredients, already correctly measured, will be waiting for you at your station, so you can start cooking more quickly. Crucial techniques and/or the use of special equipment will be demonstrated by the teacher before you'll have a go yourself. This class is perfect for everyone who likes to have a real hands-on experience.
Location: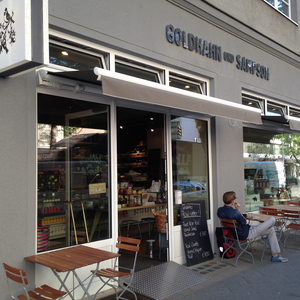 G und S Charlottenburg
Wilmersdorfer Str. 102/103
10629 Berlin
Date:
Wednesday 10 June, 2020 at 19:00 h
Duration:
Generally 3.5 to 4 hours (no guarantee).
Participants:
max. 16 persons
Menu:
Gyudon: Rice bowl topped with mildly sweet simmered beef and onion
Miso Shiru: Miso soup with tofu
Tsukemono: pickled vegetables
Okuchinaoshi: tiny sweet bites