Christmas with Shay
Saturday, 23 November 2019 at 18 h
Cooking class in English and German
Christmas with Shay
Mittlerer Osten deluxe
with Shay Dashevsky
Shay, unser Kochlehrer für die Küche aus Israel, Palästina, den mittleren Osten, aber auch Persien, Georgien und den wilden Osten, hat sich zu Weihnachten ein sehr buntes und sehr leckeres Menü überlegt. Für alle, die gerne an den Feiertagen neue Gerichte ausprobieren und womöglich im Kreise von Freunden und Familie neue Esstraditionen einführen wollen.
Menu:
Sabich Crostini: knuspriges Brot mit gerösteter Aubergine, Tahini und Kräutern
Mini Shakshouka mit Wachtelei mit selbstgebackenem Challah
Brust und Keule vom Maishähnchen, im Ofen geschmort in einer Sauce mit frisch gepresstem Orangensaft und persischen getrockneten Limetten
Grüner Salat Falafel-Style: Petersilie, Minze, Gurken mit knusprigen Kichererbsen, Tahini-Zitronen-Dressing und gerösteten Pistazien
Kabsa: Arabisches "Risotto" mit Karotten, Rosinien, gerösteten Pinienkernen und Mandelnstiften, Zimt, Kardamom und Safran.
Basbousa: Grießgebäck mit Orangenblütenwasser, serviert mit Apfel-Karamell-Sahne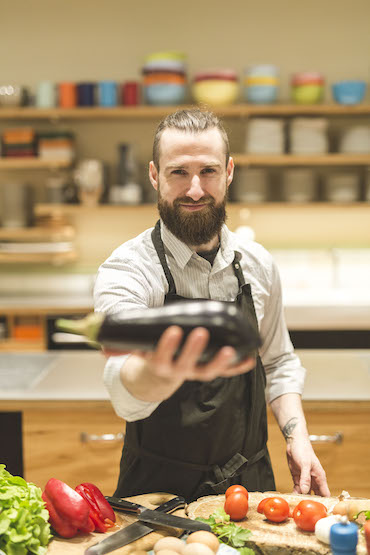 Shay Dashevsky
Born in Israel, Shay grew up in a big melting pot, literally. Raised in a former Soviet family, Shay witnessed and tasted Western Asian influences from his grandmother first hand. Surrounded with smells coming from the mixed Moroccan, Iranian, Yemeni neighborhood in the suburban Israeli city, where every open windows was a sweet invitation, Shay began his never ending journey to fusion his past and present, specially after moving to Jaffa. Arabic and Western Asian, Middle Eastern, Ukrainian and Georgian dishes: this course is an open invitation to join this passion for food.
Class type:
Cooking in groups — In this class you will form small groups and each group will be cooking some of the dishes listed in the menu. The other dishes will be cooked by your fellow cooking class participants. However, important steps and basic techniques will be demonstrated in front of the entire class and/or practiced together. Of course you will also see and hear what is going on around you and you are very welcome to ask the teacher questions. The class is designed for you to experience diverse dishes and menu components.
Location: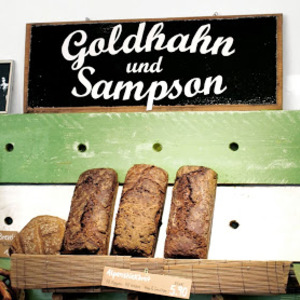 G und S Prenzlauer Berg
Dunckerstr. 9
10437 Berlin
Date:
Saturday 23 November, 2019 at 18:00 h
Language:
English and German
Duration:
Generally 3 to 3.5 hours (no guarantee).
Participants:
max. 12 persons
Menu:
Sabich Crostini: knuspriges Brot mit gerösteter Aubergine, Tahini und Kräutern
Mini Shakshouka mit Wachtelei mit selbstgebackenem Challah
Brust und Keule vom Maishähnchen, im Ofen geschmort in einer Sauce mit frisch gepresstem Orangensaft und persischen getrockneten Limetten
Grüner Salat Falafel-Style: Petersilie, Minze, Gurken mit knusprigen Kichererbsen, Tahini-Zitronen-Dressing und gerösteten Pistazien
Kabsa: Arabisches "Risotto" mit Karotten, Rosinien, gerösteten Pinienkernen und Mandelnstiften, Zimt, Kardamom und Safran.
Basbousa: Grießgebäck mit Orangenblütenwasser, serviert mit Apfel-Karamell-Sahne