Beyond Ceviche: Home cooking from Lima
Saturday, 30 March 2019 at 18 h
Cooking class in English
Beyond Ceviche: Home cooking from Lima
Traditional Food from the Peruvian Coast
with Arianna Plevisani
Lima's food traditions are at once humble and rich, complex and simple, and represent the availability of natural resources from Peru's coastal, jungle, and mountain terrains.
This course will cover a typical Peruvian 'feast' menu - a combination of dishes served at traditional Lima family gatherings, their preparation an invocation of the diverse cultural influences - Andean, European, Asian - which concentrated over the centuries on the coastal capital of Peru.
Menu:
Humitas de Queso con Salsa Criolla (hominy tamales wrapped in corn husks filled with cheese, served with onion relish and chili pepper)
Solterito Salad (fava beans, tomato, fresh cheese, and herbs)
Lomo Saltado con Arroz con Choclo y papas a las hierbas crocantes al horno (Stir fried sirloin /veggie: Mushrooms/ with a side of peruvian rice and corn and crispy oven-baked herbed potatoes)
Alfajores (butter cookies with Dulce de Leche filling)
Arianna Plevisani
Arianna Plevisani was born and raised in Lima, Peru. Her parents are both chefs, so putting good food on the table was always essential at home, a tradition she continues every time she sits down to eat. Her course aims to bring the richness of Peru's mixed cultural heritage to Berlin by celebrating its home cooking traditions: dishes (beyond ceviche!) which transmit the love for flavor that her country is known for.
Photo: Arianna Plevisani
Class type:
Cooking in groups — In this class you will form small groups and each group will be cooking some of the dishes listed in the menu. The other dishes will be cooked by your fellow cooking class participants. However, important steps and basic techniques will be demonstrated in front of the entire class and/or practiced together. Of course you will also see and hear what is going on around you and you are very welcome to ask the teacher questions. The class is designed for you to experience diverse dishes and menu components.
Location: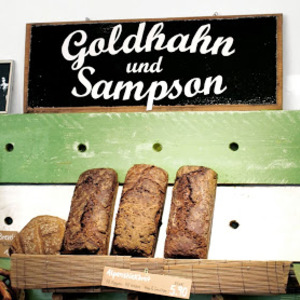 G und S Prenzlauer Berg
Dunckerstr. 9
10437 Berlin
Date:
Saturday 30 March, 2019 at 18:00 h
Duration:
Generally 3 to 3.5 hours (no guarantee).
Participants:
max. 12 persons
Menu:
Humitas de Queso con Salsa Criolla (hominy tamales wrapped in corn husks filled with cheese, served with onion relish and chili pepper)
Solterito Salad (fava beans, tomato, fresh cheese, and herbs)
Lomo Saltado con Arroz con Choclo y papas a las hierbas crocantes al horno (Stir fried sirloin /veggie: Mushrooms/ with a side of peruvian rice and corn and crispy oven-baked herbed potatoes)
Alfajores (butter cookies with Dulce de Leche filling)