Basic Class Poultry
Tuesday, 7 May 2019 at 19 h
Cooking class in German
Basic Class Poultry
Of deboned quails, carved chickens and confi'd ducks
with Lisa Shoemaker
Zerlegen bzw. Entbeinen von Geflügel, Kochen von Brühe und Fond, die Unterschiede der verschiedenen Geflügelsorten sowie die optimale Zubereitung der verschiedenen Fleischsorten.
Wachteln in Salbei und Bacon: dabei entbeinen wir die Wachteln (soviel angenehmer zu essen als mit all den kleinen Knöchelchen) und lernen dabei die Anatomie des Geflügels kennen.
Dreierlei von der Ente: die Ente wird zerlegt in Brust, Schenkel und übrig bleibt die Karkasse. Aus der bereiten wir einen Entenfond zu, der als Grundlage für Saucen dient.
Die Entenbrust wird glasiert auf saisonalen Blattsalaten mit Himbeerdressing gereicht: Die schön rosa gebratenen Entenbruststreifen harmonieren hervorragend mit dem fruchtigen Dressing.
Selbstgemachtes Confit de Canard
Zugegeben, optisch ist Confit de Canard nicht der Bringer. Ich habe es ob seiner Unansehlichkeit erst probiert, als ich bei Franzosen eingeladen war und nicht unhöflich sein wollte. Augen zu und durch, dachte ich, aber falls meine Augen geschlossen blieben, dann aus Verzückung. Seitdem bin ich der Meinung, Confit ist die köstlichste Art, Ente zu genießen.
Drei Hühner:
Ein Maishuhn wird fachgerecht gebunden und als Zitronenhuhn im Ofen geröstet. Gleichzeitig kommt Wurzelgemüse mit Olivenöl und Kräutern mit in den Ofen.
Der Kapaun wird zerlegt und die Brust als Geschnetzeltes mit Kokos und Limette kurzgebraten. Dazu Wokgemüse mit Ingwer. Seine Schenkel werden am Knochen in einer ungarischen Paprikasauce geschmort.
Das Perlhuhn wird geschmort und verwandelt sich in einen Coq au vin.
Auch beim Dessert kommt Geflügel im Vor-Flügelstadium zum Einsatz: Salzburger Nockerln sind ein Soufflé, ein grandioses, köstliches Dessert, das unkompliziert in wenigen Minuten zubereitet ist (allerdings muss man den richtigen Zeitpunkt abpassen und SOFORT servieren, wenn es aus dem Ofen kommt).
Ablauf: Zunächst wird in 2er Teams fachmännisch Geflügel zerlegt und gebraten. Danach wird in kleinen Gruppen noch jeweils ein weiteres Gericht zubereitet.
Menu:
Das Menü kann von der aktuellen Marktlage am Tag des Kochkurses beeinflusst werden. Frei nach dem Motto: Wenns keine Äpfel gibt, nehmen wir eben Birnen!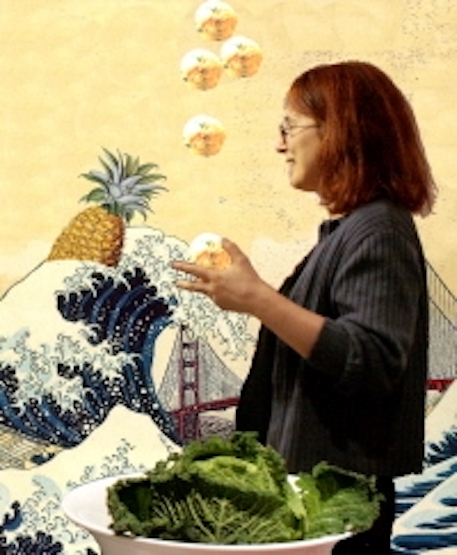 Lisa Shoemaker
Lisa Shoemaker cooks and bakes with children, young people and grown-ups. She also writes and translates cook books. Works: Let's Cook (for young people) and Englisch kochen, as Amerikanisch Kochen from the series Gerichte und ihre Geschichte. She translated among others Cynthia Barcomi's baking books.
Class type:
Cooking in groups — In this class you will form small groups and each group will be cooking some of the dishes listed in the menu. The other dishes will be cooked by your fellow cooking class participants. However, important steps and basic techniques will be demonstrated in front of the entire class and/or practiced together. Of course you will also see and hear what is going on around you and you are very welcome to ask the teacher questions. The class is designed for you to experience diverse dishes and menu components.
Location: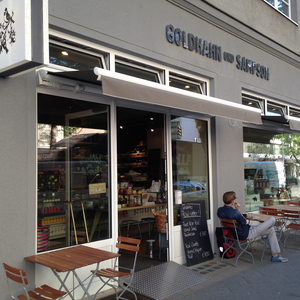 G und S Charlottenburg
Wilmersdorfer Str. 102/103
10629 Berlin
Date:
Tuesday 07 May, 2019 at 19:00 h
Duration:
Generally 3.5 to 4 hours (no guarantee).
Participants:
max. 16 persons
Menu:
Das Menü kann von der aktuellen Marktlage am Tag des Kochkurses beeinflusst werden. Frei nach dem Motto: Wenns keine Äpfel gibt, nehmen wir eben Birnen!