Bangkok Original Streetfood: Der Kurs zum Kochbuch
Saturday, 7 December 2019 at 18 h
Cooking class in German
Bangkok Original Streetfood: Der Kurs zum Kochbuch
Thai-Food für Zuhause
with Ben Kindler
Das Thema ist nicht nur der Titel des neuen Kochbuchs von Ben Kindler, sondern auch Genussthema No1 des heutigen Abends. Zu Gast ist Ben Kindler, der in Freiburg seit 9 Jahren eine Kochschule betreibt und Profi in der Showküche ist.
Seit 20 Jahren reist er regelmäßig nach Thailand und Asien und hat dort auch eine Zusatzausbildung zum Thai Koch gemacht. Ben ist leidenschaftlicher Koch und schmeisst für Euch zum Erscheinen seines neuen Thai-Kochbuchs die passende Küchenparty in unserem Haus.
Es erwartet Euch ein Gourmet Menü mit den typischen Aromen der Thai Küche, wie Zitronengras, Limette und exotischen Kräutern. Köstliche Snacks, aromatische Suppen, tolle Wokgerichte, und natürlich viel Info und Wissenswertes über die Thai Küche. Begleitet wird das Menü mit ausgesuchten Weinen und Getränken.
Freut Euch auf den fröhlichen und leidenschaftlichen Koch Ben Kindler, der Euch garantiert auf einen tollen und unterhaltsamen Kurztrip nach Thailand mitnimmt. Und das druckfrische Kochbuch hat er natürlich auch im Gepäck! Wir wünschen gute Reise & guten Appetit!
Ben Kindler
"Wenn ich groß bin, dann werde ich Koch", das weiß Ben schon als 6-jähriger Bub und träumt von seinem eigenen Restaurant. Aufgewachsen direkt neben einem Bauernhof, spielt die Nähe zur Natur und ein ehrliches Verhältnis zu Lebensmitteln schon immer eine große Rolle. Die Suppen und Speisen seiner Großmutter waren schon immer die leckersten. Diese Philosophie lebt er bis heute und kauft seine Produkte ausschließlich bei kleinen Bauern und Erzeugern aus dem Umland.
Das Kochen lernt Ben im Sterne-Restaurant "Eichhalde". Danach zieht es ihn nach Thailand, wo er die Liebe zur asiatischen Küche entdeckt. Mit dem Förderpreis als bester Auszubildender absolviert er eine Zusatzausbildung zum Thai Chef in Chiang Mai. Es folgen Stationen in renommierten Hotels von Dubai bis Österreich. Wann immer es ihm zwischendurch möglich ist, verbringt er Zeit in Asien: Thailand, Malaysia, Indonesien und Laos. Anschließend übernimmt Ben die Leitung der Küche im Schweizer Sterne-Restaurant "Fischerzunft", wo er seine Liebe zur Fusion-Küche, der euro-asiatische Küche, voll ausleben kann. Nach zwölf Lehr- und Wanderjahren macht Ben sich im Alter von 28 Jahren mit Kochschule und Catering selbstständig. Mittlerweile hat er rund um seine Kochschule "bensels" ein kleines Feinschmecker Imperium geschaffen. Bis zu sieben Kochkurse geben Ben und sein Team pro Woche. Zudem gibt es eine Feinkostlinie mit Gewürzen und Chutneys, Essigen und Ölen. Im Oktober diesen Jahres erscheint nach "Badisch – klassisch & kreativ" Bens drittes Kochbuch "Bangkok - Love it. Eat it".
Photo: Ben Kindler / Foto: Baschi Bender
Class type:
Cooking in groups — In this class you will form small groups and each group will be cooking some of the dishes listed in the menu. The other dishes will be cooked by your fellow cooking class participants. However, important steps and basic techniques will be demonstrated in front of the entire class and/or practiced together. Of course you will also see and hear what is going on around you and you are very welcome to ask the teacher questions. The class is designed for you to experience diverse dishes and menu components.
Location: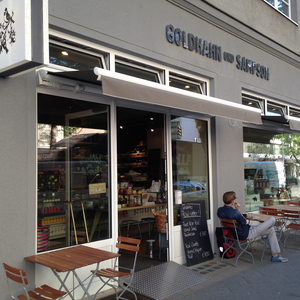 G und S Charlottenburg
Wilmersdorfer Str. 102/103
10629 Berlin
Date:
Saturday 07 December, 2019 at 18:00 h
Duration:
Generally 3.5 to 4 hours (no guarantee).
Participants:
max. 16 persons