Lisa's Baking School
Baking class in German
Lisa's Baking School
doughs, rising agents, crumbles & Co.
with Lisa Shoemaker
Grundkurs Backen: 4 Teige. Hefeteig, Rührteig, Biskuit, Mürbeteig
Wir klären, was der prinzipielle Unterschied zwischen diesen Teigen ist, worauf man bei ihrer Herstellung achten muss und warum bei doch sehr ähnlichen (wenn nicht gar gleichen) Zutaten so ganz andere Ergebnisse zustande kommen.
Menu (example):
Biskuit: Himbeertorte, die Konsenstorte, die alle von Oma bis Enkel glücklich macht
Mürbeteig mit Ei, Baiser: Johannisbeer-Baiser-Kuchen
Mürbeteig ohne Ei: Cherry Pie, gedeckter Sauerkirschkuchen, völlig unterschätzt in Deutschland
Herzhafter Mürbeteig: Fenchel-Chèvre-Tarte
Süßer Hefeteig und Mandelhonigguss: aka Bienenstich
Herzhafter Hefeteig: Pissaladière, Zwiebelkuchen aus Südfrankreich
Rührteig mit Backpulver: Türkischer Joghurtkuchen
Streusel: Rhubard Crumble, kaum Arbeit und einfach nur köstlich
Ohne Mehl (also ohne Gluten): Chocolate Chilie Cake
Ohne Teig (aber mit Gluten): Klassischer Cheesecake mit einem Krümelboden und Sour Cream Topping
Natron als Triebmittel: Zitronen-Blaubeer-Muffins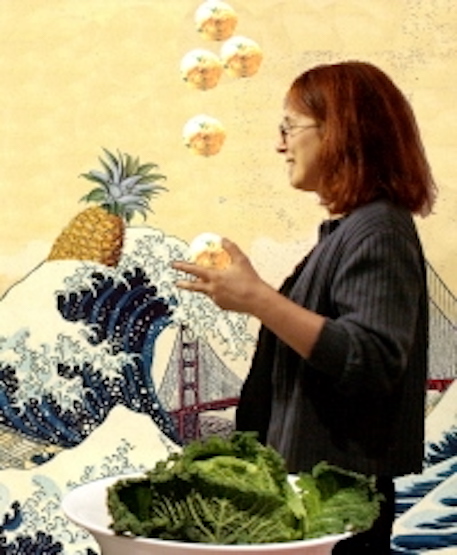 Lisa Shoemaker
Lisa Shoemaker cooks and bakes with children, young people and grown-ups. She also writes and translates cook books. Works: Let's Cook (for young people) and Englisch kochen, as Amerikanisch Kochen from the series Gerichte und ihre Geschichte. She translated among others Cynthia Barcomi's baking books.
Class type:
Cooking in groups — In this class you will form small groups and each group will be cooking some of the dishes listed in the menu. The other dishes will be cooked by your fellow cooking class participants. However, important steps and basic techniques will be demonstrated in front of the entire class and/or practiced together. Of course you will also see and hear what is going on around you and you are very welcome to ask the teacher questions. The class is designed for you to experience diverse dishes and menu components.
Duration:
Generally 3.5 to 4 hours (no guarantee).
Menu (example):
Biskuit: Himbeertorte, die Konsenstorte, die alle von Oma bis Enkel glücklich macht
Mürbeteig mit Ei, Baiser: Johannisbeer-Baiser-Kuchen
Mürbeteig ohne Ei: Cherry Pie, gedeckter Sauerkirschkuchen, völlig unterschätzt in Deutschland
Herzhafter Mürbeteig: Fenchel-Chèvre-Tarte
Süßer Hefeteig und Mandelhonigguss: aka Bienenstich
Herzhafter Hefeteig: Pissaladière, Zwiebelkuchen aus Südfrankreich
Rührteig mit Backpulver: Türkischer Joghurtkuchen
Streusel: Rhubard Crumble, kaum Arbeit und einfach nur köstlich
Ohne Mehl (also ohne Gluten): Chocolate Chilie Cake
Ohne Teig (aber mit Gluten): Klassischer Cheesecake mit einem Krümelboden und Sour Cream Topping
Natron als Triebmittel: Zitronen-Blaubeer-Muffins