Brunch Baking
Saturday, April 25, 2020 at 10:30 h
This cooking class is expected to be available for booking on Tuesday 21 April, 2020.
Baking class in German
Brunch Baking
Backt euch glücklich
with Julia Schneider
Feinschmecker und Zuckerschnuten hereinspaziert: Erst lange schlafen, dann üppig essen: Der typische Brunch ist definitiv unsere Lieblings-Mahlzeit. Süß und herzhaft, Frühstück und Lunch. Gesellig und vielfältig. Überall gibt es Sauerteigbrote, pochierte Eier, Buttermilch Pancakes, Croissants und Sauce Hollandaise. Fabelhaft, ohne Frage, aber was gibt es eigentlich noch so? In diesem Kurs wird (fast) alles gebacken. Und das Beste, wer geschickt auswählt, kann vieles vorbereiten und hat weniger Stress, wenn die Gäste kommen.
Menu:
Pikante Windbeutel mit Lachs
Glazed Cinnamon Rolls with Pecan Swirls
Banana Walnut Scones
Schnelle Roggenbrötchen
Tarte mit Kartoffeln und Frühlingszwiebeln
Süßkartoffel Waffeln mit Avocado und Ei
Julia Schneider
Julia ist studierte Juristin, geplante Kunsthistorikerin und gelandet in der Welt des guten Tees. Aufgewachsen mit Landwirten in der Familie, kam sie schon früh in die Gunst toller Lebensmittel. Erst der wässrige Geschmack und die pralle Konsistenz von einer Tomate, während ihrer Zeit in Amerika, machte ihr das erste Mal bewusst, was Schmecken eigentlich bedeutet und so fing sie vor genau 12 Jahren an, die Welt der Aromen für sich zu erkunden. Kochen und Backen ist nicht nur eine Leidenschaft, sondern auch Neugierde, Kreativität, Disziplin und Mut. In der Küche gibt es für sie keine Grenzen, außer den bestmöglichen Geschmack.
Photo: Julia Schneider
Class type:
Cooking in groups — In this class you will form small groups and each group will be cooking some of the dishes listed in the menu. The other dishes will be cooked by your fellow cooking class participants. However, important steps and basic techniques will be demonstrated in front of the entire class and/or practiced together. Of course you will also see and hear what is going on around you and you are very welcome to ask the teacher questions. The class is designed for you to experience diverse dishes and menu components.
Location: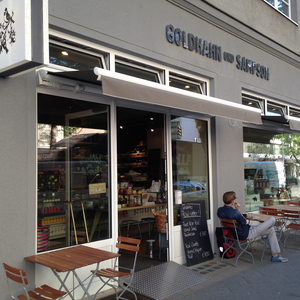 G und S Charlottenburg
Wilmersdorfer Str. 102/103
10629 Berlin
Date:
Saturday 25 April, 2020 at 10:30 h
Duration:
Generally 3.5 to 4 hours (no guarantee).
Participants:
max. 16 persons
Menu:
Pikante Windbeutel mit Lachs
Glazed Cinnamon Rolls with Pecan Swirls
Banana Walnut Scones
Schnelle Roggenbrötchen
Tarte mit Kartoffeln und Frühlingszwiebeln
Süßkartoffel Waffeln mit Avocado und Ei