All About Meat: Carpaccio, Steak and Braised Meat in English
Friday, 26 July 2019 at 19 h
Cooking class in English
All About Meat: Carpaccio, Steak and Braised Meat in English
Basic cooking techniques for meat eaters
with Yogini Hufendiek
In this class you will broaden your horizon: you'll get to know different cuts of beef and pork, and learn about the perfect cooking techniques. We'll start with an Italian classic: Carpaccio of veal fillet. For the main course we'll pan fry some flavourful (secondary) cuts. Meanwhile we'll also braise some beef shoulder in the oven, with a delicious Madeira sauce.
Menu:
Raw: Veal fillet carpaccio with apple celery tartar and wild herbs
Beef pan-fried: Entrecôte OR Flank (Beef) with tomato paprika salsa (depending on availability)
Iberico pork pan-fried: Pluma or Secreto (depending on availability)
Braised beef shoulder with Madeira, mushrooms, bacon with celeriac puree
Apple Crumble with tonka bean cream
Yogini Hufendiek
Aufgewachsen in Westfalen verbrachte ich die Ferien bei meiner ungarischen Oma, die so leckere ungarische Hausmannskost kochen konnte und in deren Küche magische Gerüche schwebten. Lange Zeit liebte ich das Essen mehr als das Kochen, weil ich das Gefühl hatte, nicht genug darüber zu wissen, was das Kochen ausmacht. Dann wurde die Sehnsucht danach, selber richtig gut kochen zu können immer stärker. Deshalb entschied ich mich, eine richtige Ausbildung zur Köchin zu machen. Nach Jahren auf verschiedenen Posten in angesagten Berliner Restaurants möchte ich in meinen Kursen dazu ermutigen, mehr selber zu Hause zu kochen und die Berührungsängste auf unbekannten Koch-Gebieten zu verringern.
Class type:
Cooking in groups — In this class you will form small groups and each group will be cooking some of the dishes listed in the menu. The other dishes will be cooked by your fellow cooking class participants. However, important steps and basic techniques will be demonstrated in front of the entire class and/or practiced together. Of course you will also see and hear what is going on around you and you are very welcome to ask the teacher questions. The class is designed for you to experience diverse dishes and menu components.
Location: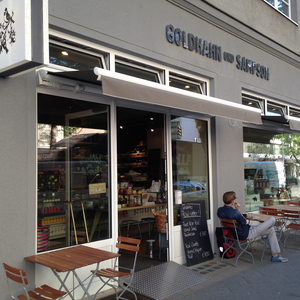 G und S Charlottenburg
Wilmersdorfer Str. 102/103
10629 Berlin
Date:
Friday 26 July, 2019 at 19:00 h
Duration:
Generally 3.5 to 4 hours (no guarantee).
Participants:
max. 18 persons
Menu:
Raw: Veal fillet carpaccio with apple celery tartar and wild herbs
Beef pan-fried: Entrecôte OR Flank (Beef) with tomato paprika salsa (depending on availability)
Iberico pork pan-fried: Pluma or Secreto (depending on availability)
Braised beef shoulder with Madeira, mushrooms, bacon with celeriac puree
Apple Crumble with tonka bean cream