Handgemachte Pasta: Workshop und Buchvorstellung
Monday, 21 October 2019 at 19 h
Book launch in German
Handgemachte Pasta: Workshop und Buchvorstellung
Mini Pastaworkshop und Buchpräsentation
with Claudio Del Principe
Claudio Del Principe kommt zu uns nach Charlottenburg und stellt sein neues Kochbuch a mano - Verführerische Pasta. Von Hand gemacht. Es geht darin um das Glück der guten, der guten handgemachten Dinge, in diesem Fall: Pasta. Passend dazu wollen wir eine kleine Küchenparty mit euch feiern.
Claudio erzählt euch einiges über Techniken zum kneten, ausrollen und formen von Pasta - natürlich alles mit der Hand. Es gibt Tipps für Grundrezepte für Pastateige und passende Saucen. Und dann sind viele Hände gefragt und ihr dürft selbst verschiedene Pastasorten herstellen. Im Anschluss werden die Kreationen probiert und dazu gibt es natürlich auch das ein oder andere Glas Wein.
In geselliger Runde lassen wir den Abend ausklingen, Claudio beantwortet eure Fragen und natürlich hat er auch einige Exemplare seines Buches zum signieren dabei.
Claudio Del Principe
Claudio Del Principe (*1967) lebt und arbeitet als freier Autor, Food Writer und Werbetexter in der Schweiz. Zu seinen Auftraggebern gehören Verlage, Food-Magazine, Erzeuger und Händler. Sein Blog «Anonyme Köche» gilt seit dem Start 2007 als Perle unter den deutschsprachigen Foodblogs. 2009 ist bei Gräfe und Unzer das Buch zum Blog erschienen. Del Principe serviert ehrliche Rezepte und authentische Geschichten über kulinarische Besessenheit. Er liebt die Reduktion aufs Wesentliche und entfacht damit eine heftige Leidenschaft fürs Kochen und Geniessen, die in so vielen von uns schlummert. 2014 erschien sein Kochbuch «Italien vegetarisch», mit dem Besten, was die italienische Küche an vegetarischen Schätzen zu bieten hat (Brandstätter Verlag). 2015 folgte (ebenfalls bei Brandstätter) «Ein Sommer wie damals» mit unvergesslichen Rezepten, Musik und Amore. Diesen Herbst erscheint im AT Verlag «A Casa. Gut kochen. Besser essen. Jeden Tag.», ein sinnliches Kochtagebuch mit 200 italienisch inspirierten Rezepten.
Photo: Claudio Spazio
Class type:
Cooking in groups — In this class you will form small groups and each group will be cooking some of the dishes listed in the menu. The other dishes will be cooked by your fellow cooking class participants. However, important steps and basic techniques will be demonstrated in front of the entire class and/or practiced together. Of course you will also see and hear what is going on around you and you are very welcome to ask the teacher questions. The class is designed for you to experience diverse dishes and menu components.
Location: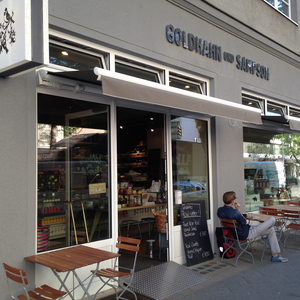 G und S Charlottenburg
Wilmersdorfer Str. 102/103
10629 Berlin
Date:
Monday 21 October, 2019 at 19:00 h
Duration:
Generally 3.5 to 4 hours (no guarantee).
Participants:
max. 27 persons