GOLDHAHN UND SAMPSON
Food, Wine, Cookbooks and Cooking Classes. You can find us in Berlin Charlottenburg and Prenzlauer Berg. Established in 2006.
This post is also available in: Deutsch (German)
No on-site cooking classes until the end of 2020 – Cool new Online classes for cooking at home.
Like you, we had been looking forward to cooking together again in our cooking school. Due to the current decisions of the government and also the Berlin Senate, it is with a heavy heart that we have to cancel all planned cooking courses on-site at our cooking school in Charlottenburg. Until the end of the year 2020, we will no longer offer cooking classes there.

But: We are optimistic about the future and so we're already in the process of putting together a new class programme for the first quarter of the new year. Probably already from the end of this month on you can book the courses for January, February and March!

We will contact everyone who booked a cooking class on-site with us in Charlottenburg in November and December 2020 in the next few days. Please bear with us, as the cancellation process may take some time. But you will all hear from us soon!

And now we are looking forward to our LIVE ONLINE cooking classes, which will take place as planned. Maybe you'll be there and we will see you online? You can find the programme here:
LIVE ONLINE cooking classes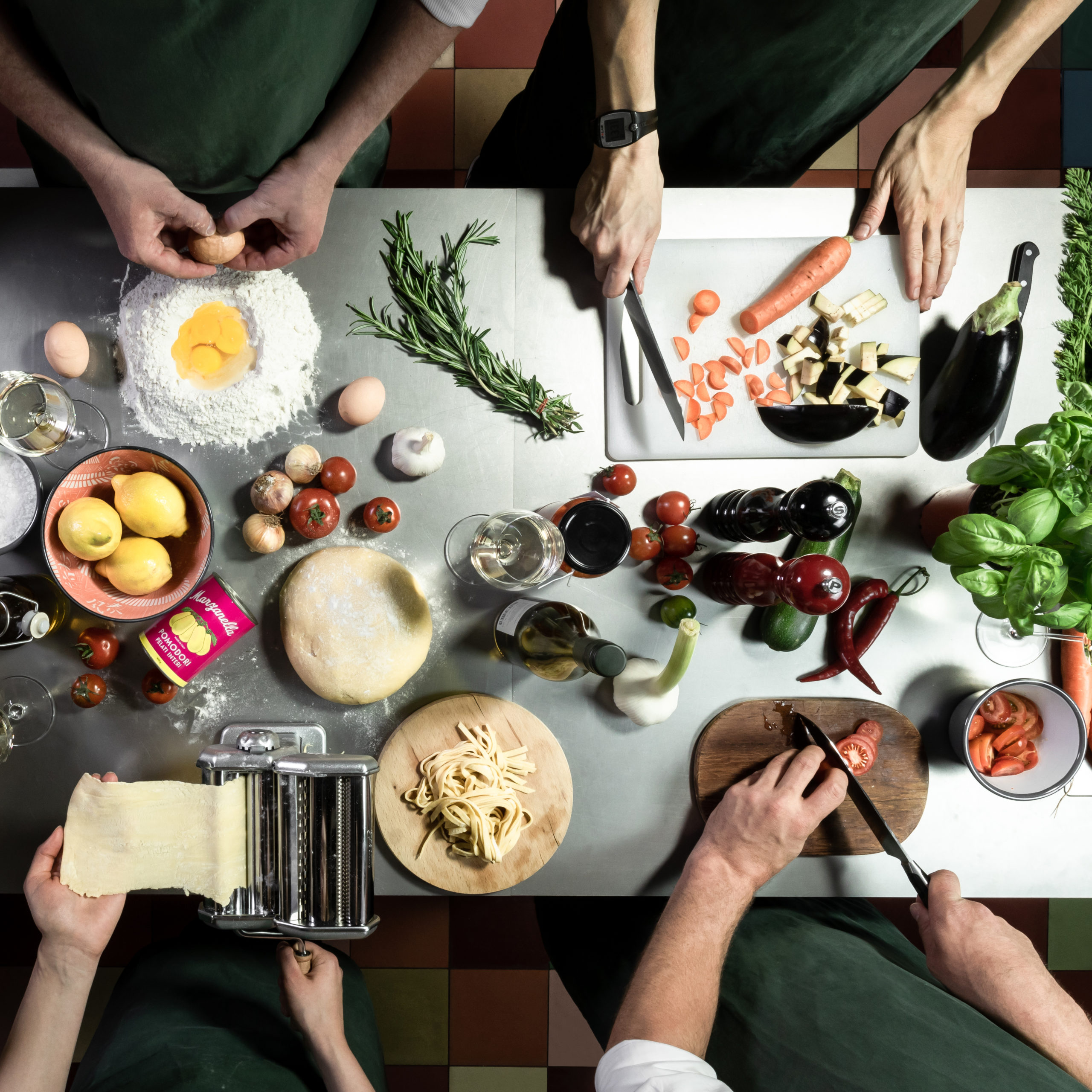 Welcome to Goldhahn und Sampson
For us, it's all about taste. The essence of things, products that fully convince us and food we simply can't get enough of. And that's what we want to share with you: our enthusiasm for good food and drinks. ‍ ‍ Our shelves are stocked with quality products we truly believe in, coffee we like to drink ourselves, books that can't be found in regular bookshops, wines that still have insider status, and a huge range of cooking classes that allow you to taste, experience and discover new things. ‍ ‍ At Goldhahn und Sampson, you'll find maximum enthusiasm and passion for all things culinary. Our team consists of people who all share a love for good food and drinks. They're always ready to assist and navigate you through our assortment, provide background information to all our products and, if appreciated, lots of nerdy insights as well.
BLOG
ADVENTURES IN FOOD – our very own Goldhahn und Sampson Blog.
News and events, behind the scenes and secret recipes.
VOUCHER
Looking for a special gift for your loved one? Stuck for time and considering a cooking class as a present? You can use our vouchers for food, drinks, cookbooks and cooking classes – a flexible gift option.
Buy
Charlottenburg
Wilmersdorfer Str. 102-103
(x Mommsenstr.)
10629 Berlin
hallo@goldhahnundsampson.de
Opening hours
Monday to Saturday from 8 a.m. to 8 p.m.
Prenzlauer Berg

Dunckerstraße 9
(x Helmholtzplatz)
10437 Berlin
hallo@goldhahnundsampson.de
Opening hours
Monday to Saturtday from 8 a.m. to 8 p.m.
‍
The data provided here will be stored and processed by Goldhahn & Sampson GmBH exclusively for the purpose of sending the newsletter.
Additional Privacy Information: Information duties according to DSGVO