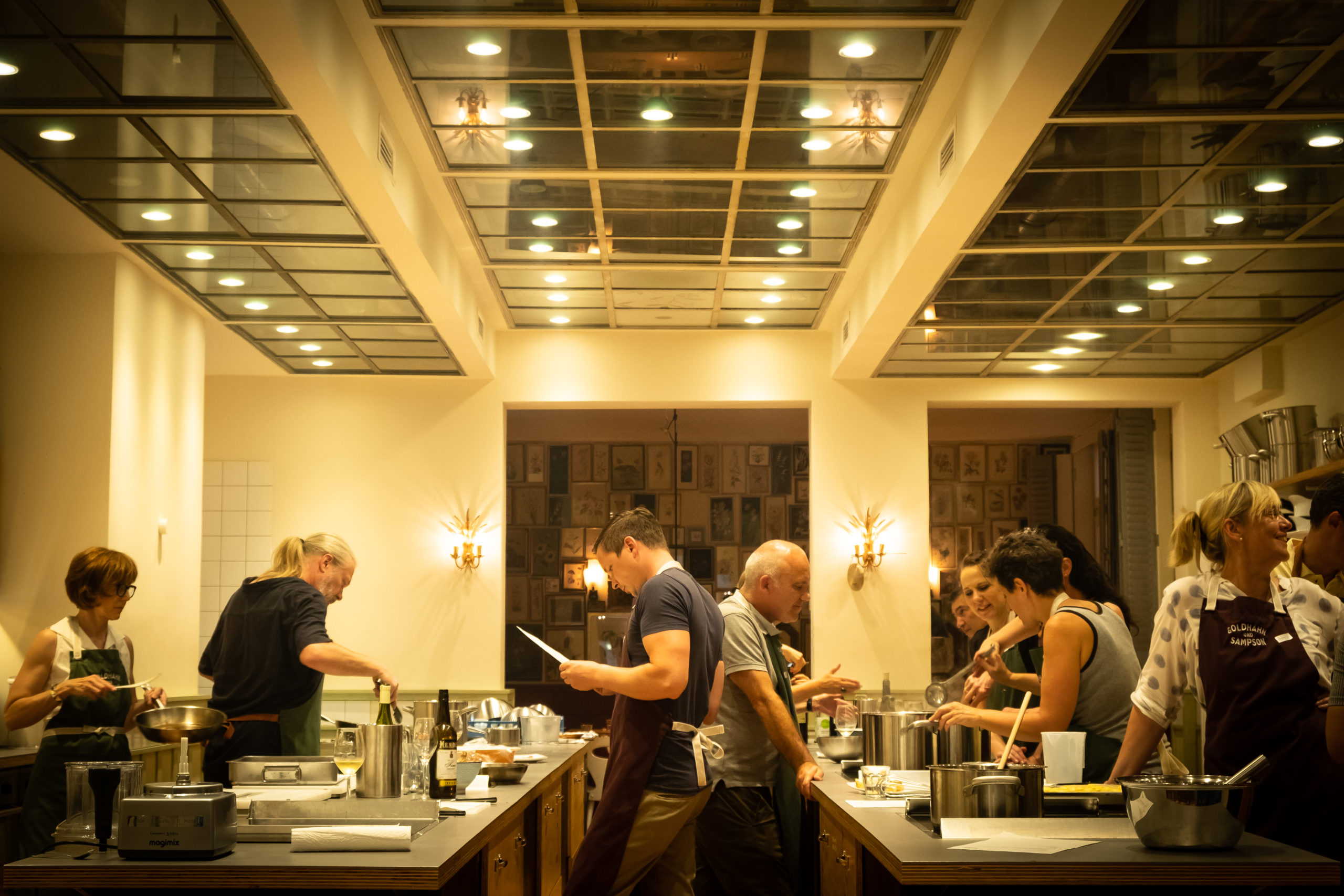 Cooking Classes at Goldhahn und Sampson
- 17.08.2020
Dear friends and fans of the cooking school,
Crazy times! We don't know about you, but we're somehow very happy with the current relaxation of corona measures here in Berlin. It's possible to organise smaller events again, and we're working hard on bringing back our cooking classes. Nevertheless, we are still reluctant and do not consider the situation to be over yet. So we took the time we needed to develop a concept for the future of the cooking school that works for all of us. During the past weeks we've received so many questions by you, our loyal cooking class students about when and how we will proceed with our classes, so here's an update for you.
We and others
Of course, we noticed that other gastronomy businesses react in a very casual way to the 'new normal", and some bars and restaurant operate almost like nothing has changed at all, without the implementation of the current regulations including the 1,5 m distance rule. For us, acting like this is not an option, as we are determined to protect our staff and guests, and we're not willing to take any risks of their safety.
As a cooking school, we are different from a restaurant, as there is much more interaction. This is why we have to take more and stricter precautions. We have now drawn up a protection and hygiene concept for the cooking school, which we are convinced is appropriate to the current situation. With this, and of course with your support, we now want to hold the first cooking courses at the end of August.
Cooking school in Prenzlauer Berg will remain closed for the time being
Nevertheless, we would like to take small steps towards a new daily routine in our cooking school. Unfortunately, we won't be able to re-open our cooking school in Prenzlauer Berg any time soon, as it is a rather a cozy location, which makes it almost impossible to create a distance of 1.5 m in a cooking situation. We will re-evaluate this decision in a few weeks and inform you accordingly if there are any further changes. Right now, we concentrate on our cooking school in Charlottenburg.
We did not take the easy way out of this and had long and fierce discussions. Finally, we agreed, that we do not want to place economic interest over safety. Therefore we have come up with a protection and hygiene concept for the cooking school in Charlottenburg. With this and your support, we are looking forward to the first cooking classes.
Regular cooking classes in Charlottenburg from the end of August
Currently, we plan to start at the end of August/ beginning of September with a few regular classes and wine tastings. Not all our teachers a ready yet to give classes again, therefore we will return with our most popular classes.
The most important changes for the cooking classes
One ticket for up to four people
At this point, it will not be possible to book individual tickets. You always have to book a cooking station, which means you have to buy four tickets. The station can be occupied with up to four people from one household or from households that are acquainted with each other. Of course, it is possible to cook with one, two or three people at one station, but you always have to pay for four tickets.

Why do we do this? Due to the current distance regulations, it is not possible to let people that don't belong to one household or are acquainted with one another, cook together at one station. Since we can only set up four stations, single bookings would only sell one ticket for an entire station. For economic reasons, courses with so few participants are not possible. Hence the regulation of the "ticket fo four"
Mouth and nose protection
All participants, assistants, and teachers have to wear mouth and nose protection (mask) while cooking. The mask does not have to be worn while eating at the table.
Why do we do this? Wearing a mouth and nose mask serves the safety of our staff and guests and it is a legal requirement.
Serving of alcohol
Wine and beer will only be served while eating at the table.

Why do we do this? It has always been a general rule to serve alcohol only at the end of the first hour of a cooking class. Experience has shown that this leads to fewer injuries and that it helps that the newly learned skills are well kept in mind. So we keep it this way but extend it a little. Also, it's not so pleasurable to drink wine with a mask on.
Cooking and eating
A maximum of 4 people will cook and sit together at the same table later. Unfortunately, it is not possible to visit the other stations during the cooking class and also later during the meal, you can't sit together at one large table.

Why do we do this? It is a compromise to make the classes work again. The distance regulations are very clear on this point, while it is okay to quickly walk past another person, e.g. to go to the toilet, it is not allowed to stay close to each other over a longer period.
Business classes and private events
We have decided not to offer cooking courses for private groups, such as company cooking courses, for the time being. Even though it's permitted to do group events with 300 people (and soon more) in closed rooms, it is still mandatory to comply with the 1,5-meter distance regulation between persons that do not live in the same household. To us, despite all faith in the common sense of people, this simply does not seem realistic for a team event or a family celebration.
A cooking course with friends or colleagues is rather a bustling affair. Since only a maximum of 4 people are allowed to cook at one station and sit at one table, and it's neither possible to 'visit' the other cooking stations nor to sit together on one table with all friends or colleagues, to us it doesn't sound like the right set-up for a team event. It was really really difficult for us to decide this way, but we think that it's the best solution at the moment.
Christmas parties and cooking classes
We remain confident and therefore we accept requests for cooking classes and events in November and December. Always under the reservation that circumstances may change again.
Online live cooking classes
We are taking major steps here and plan to start with a few live online classes in August. The technology is there, but it's a bit more complicated than expected and our booking system needs to be adapted to the online cooking courses. As soon as the classes go live, we'll let you know. So keep an eye on our website, social media channels, and newsletter.
Newsletter for updates about the cooking school
If you want to be informed about new classes and all updates on private classes, subscribe to our newsletter.
We are looking forward to seeing you soon in our kitchen,
Yours, Goldhahn und Sampson
Zum Blog